The club affiliation tab enables clubs to see their list of affiliated members.
Clean up and dashboard setup
1- From the notification email:

Open the permit application link for references.
2- In the club menu: https://snowreg.com/management/tools/#!/dashboard/club
Lookup the club name: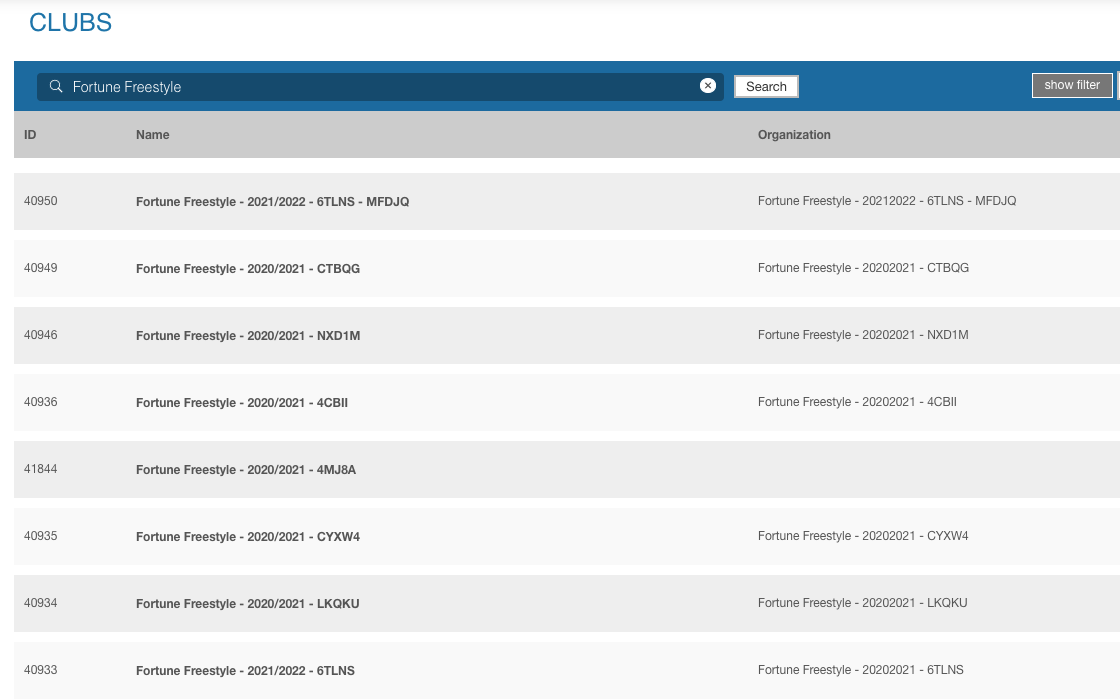 We need to DELETE all the duplicates that are not:
- linked to a permit/club sanctioning application
- linked to a past year reg process
How to check? Open each dashboard in a new tab, and check dashboard home -> permitting & sanctioning section. If blank, delete the club dashboard:


3- Once you've found the dashboard linked to the new permit application: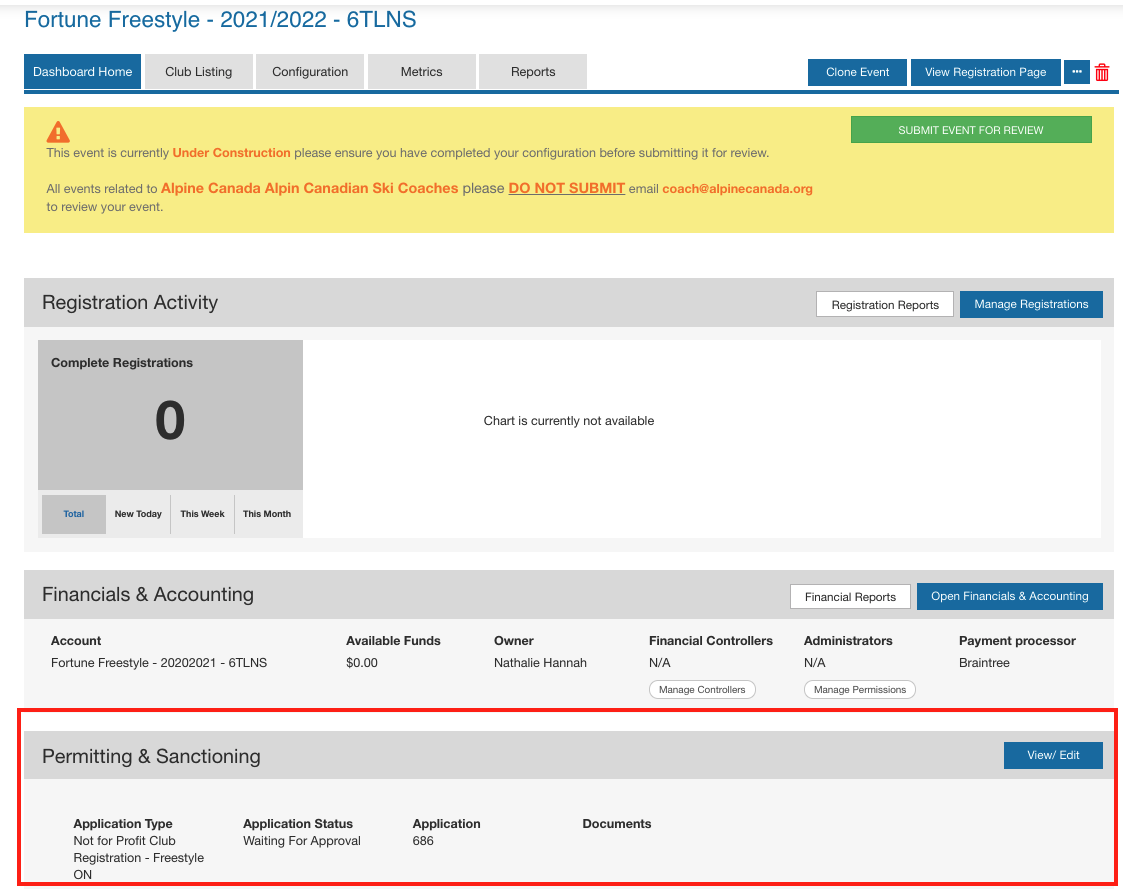 You need to:
Rename the listing to remove the slug + make sure they updated the years 20XX-20XX to the new season:

Link the dashboard to the existing event_org (in django) + deactivate duplicate orgs:
From the event_app -> organization menu: https://snowreg.com/eventsquare/admin/panel/event_app/organization/
Look up your club name:
you need to use the ID of the club already fully setup (with processing fees on it for a club that already used us in the past)
open all the duplicate accounts, and remove the "can be reused' tag so admin to pick the wrong one next time they setup an event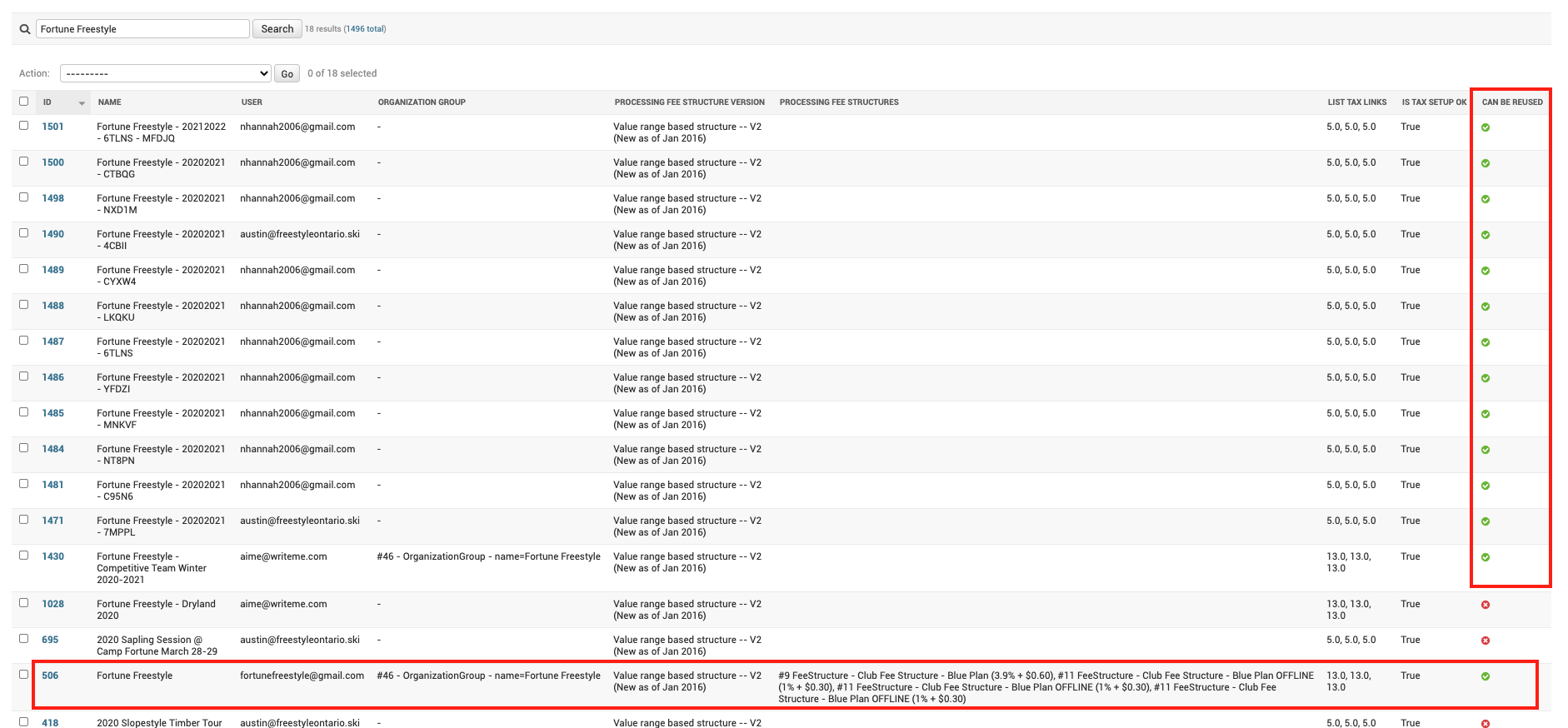 From the event_app -> events: https://snowreg.com/eventsquare/admin/panel/event_app/event/
Lookup your club name, ignore all the duplicate (that you should already have deleted from the dashboard, they are deleted if the right column "is deleted" has the green tag on it), and open the new 20XX-20XX event: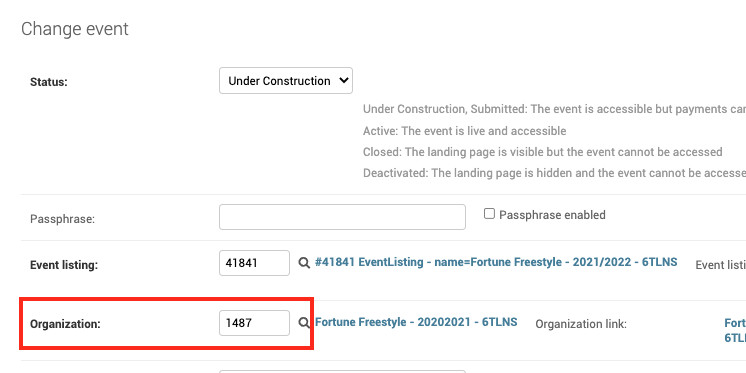 Change the organization field with the organization ID of the last season (already setup org): in that example, we would reuse ID 506.
Once all the duplicates are cleaned up, and the remaining dashboard is linked to the proper org:
4- Make sure the club org admins list include the person who submitted the application
If not, add the applicant as an admin for the club.
Club affiliation tab setup
To create the affiliation tab in the club dashboard:
1. Go to clubs in django
2. Click on

3. Search and add the club ID and Node
Make sure that the Django event ID is the same as the club you're creating the tab for. You can check the club ID in the dashboard URL :
Make sure the node is the one with the correct dates under ''organization'':

4. Save
5. Go back/refresh the club dashboard to make sure the affiliation tab has been created:

Fill out the follow-up sheet
1- Open the file, and go to the appropriate tab (one per province), complete on the club row:
Add application link
Add dashboard link
Application done? = YES


Reach out to the club admin
Once the dashboard and club tab are ready, you need to reach out to the club depending on :
If they used Snowreg last season: We need to create a hubspot template for that
If they did not used Snowreg last season (or are a brand new club): Use the template ''Snowreg clubs - Application follow up (choose plan)''
You can find out whether or not they used the system last season by checking last season followup sheet: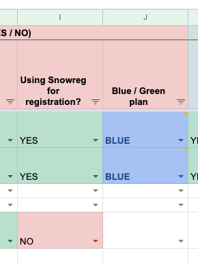 Finally, once you've created your ticket and send the email, you can add the link to the hubspot ticket as a comment on the club name: