On the administrative dashboard, there will be a number of sections where you can find relevant information, 13 of them will be presented in this overview :



First, you need to access your administrative account and tools:
Select the login button

Select dashboard under tools

1. Events
This section will contain registration information and setup for any events you are hosting on our
service. All these articles also apply to a Club setup.
2. Membership Organizations
This section will contain the bulk of the information you will access our service: complete membership numbers and activity for your PSO, and reports containing all of the information we collect from your members.
Selecting this dashboard page, and selecting your PSO, will greet you with a home page containing total membership numbers, and a list of latest registration activity :
The primary section you will be accessing here is the 'Reports' tab. From this section, you will be able to update and download CSV reports containing all of the information we collect from your members during registration. You will be primarily using the 'Memberships - Issued' report, which contains information for all members with active memberships: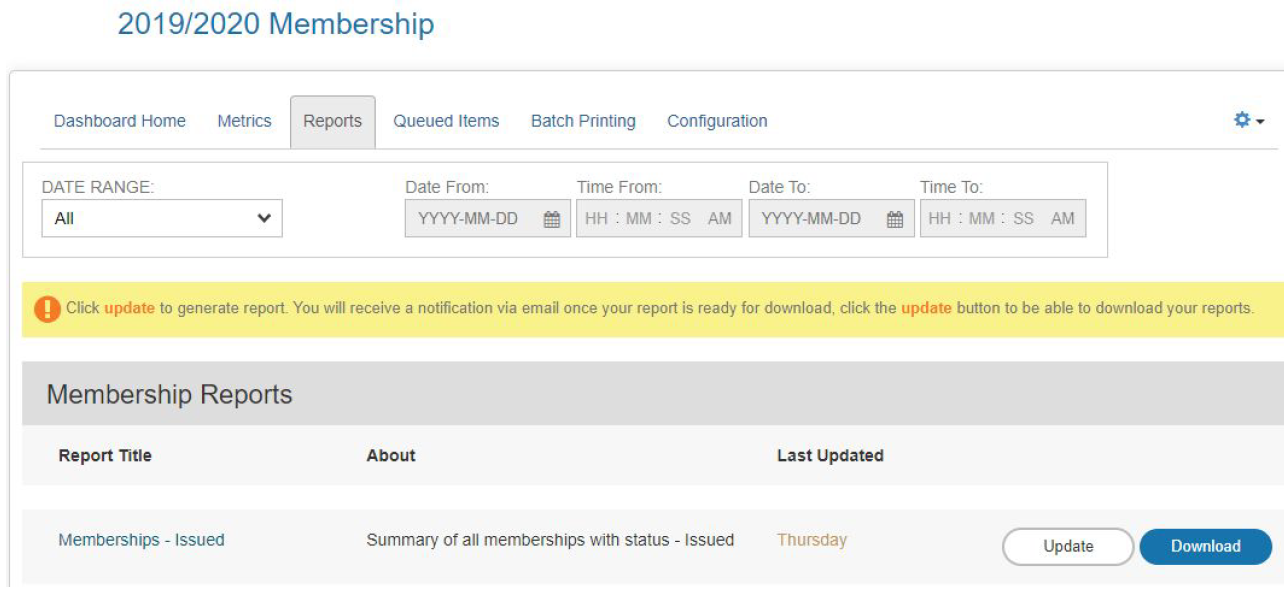 3. Membership Lookup
This section enables you to look up someone's membership by searching with their Name and Member Number. This page has to be set up by your CheerReg account manager

4. Permits
In this section, you'll find all of the permits or applications that events, clubs, or other organizations have submitted to your organization. This could include:
Events requesting sanctioning
Clubs requesting sanctioning
Other applications submitted by affiliated businesses or partners
5. Financials & Accounting
This section will contain detailed financial information for funds we have collected on your PSOs
behalf.
The default tab in this section, 'Cashflow', contains an overview of all funds collected and disbursed to your organization: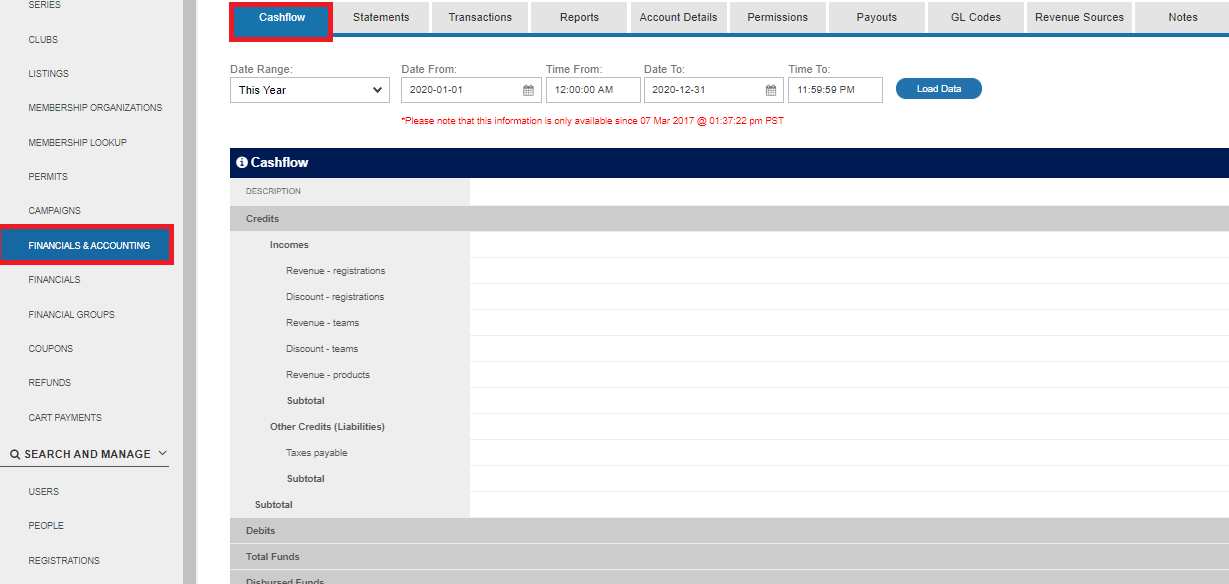 The various other tabs contain more detailed financial information, with the 'Reports' tab allowing you to download CSV reports in a multitude of formats.
5bis. Coupon code
Coupon code can be used to give partial/full discounts to a specific member/registrant such as officials or volunteers.
6. Cart Payments (upon validation from your account manager)
This area is where you can find unpaid carts and you can process payment by a method outside of our platform. This could include taking payment by cash, cheque, third-party point of sale, electronic funds transfer, etc..
If you are willing to use our offline payments function, please contact your account manager to see if you're eligible.
7. User Accounts
For you to better understand our system logic, here is an explanation on how each object is linked to other: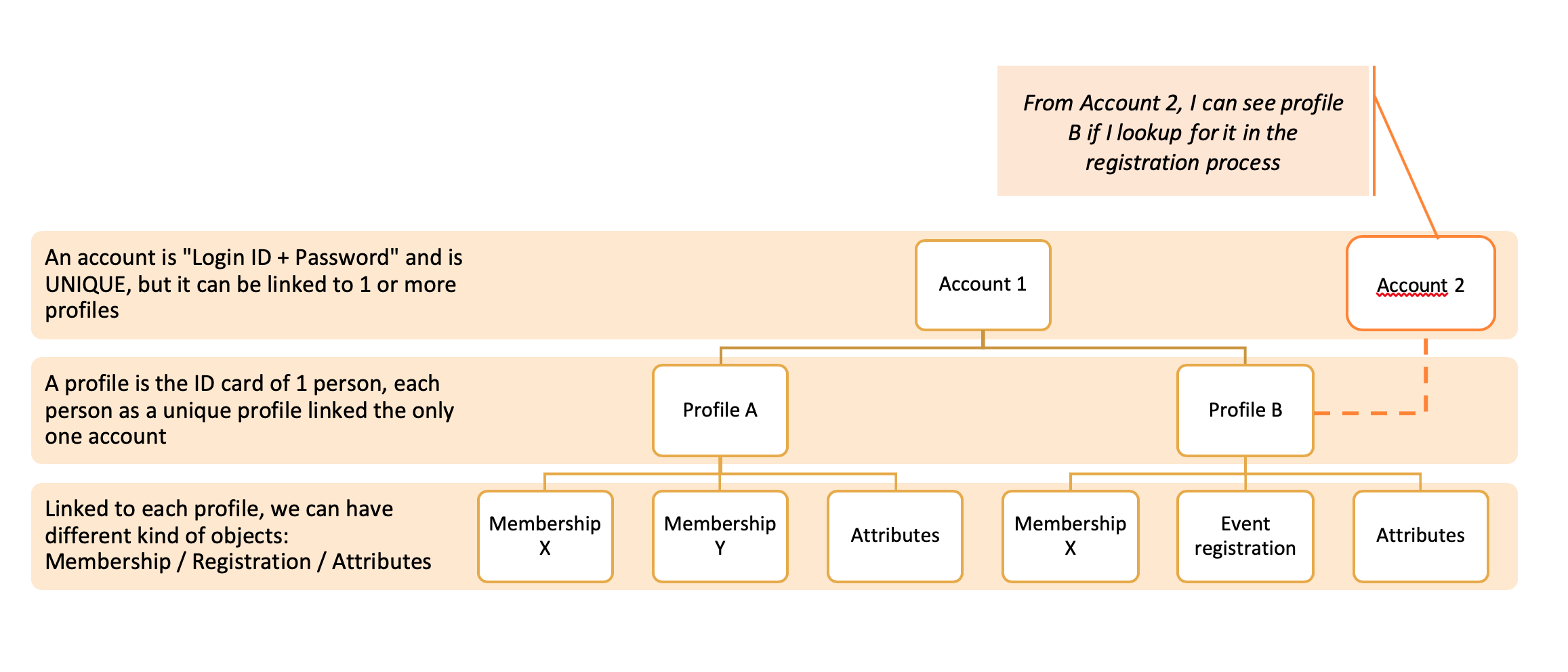 The 'User Accounts ' section will allow you to search for user accounts - useful for locating individuals registered by an admin, coach, or as part of a family account.
8. User Account Profiles

Accessing the 'user account profiles' section, you will be able to search by name or associated
email address, any individual who has started or completed a membership with your PSO. Selecting a profile will allow you to directly access any PSO memberships or registrations this
individual holds and more.
9. Registrations
This section will allow you to search for, and direct access, registrations per individual. Selecting a registration will allow you to view information concerning, and collected during, a registration.
10. Orders
This section will allow you to search for, and direct access, a specific order in the system.
Accessing an order directly will give you a breakdown of the order in question: order items and subtotal, purchaser name and email address, date processed, and any completed transactions or invoicing to a payment group for the order.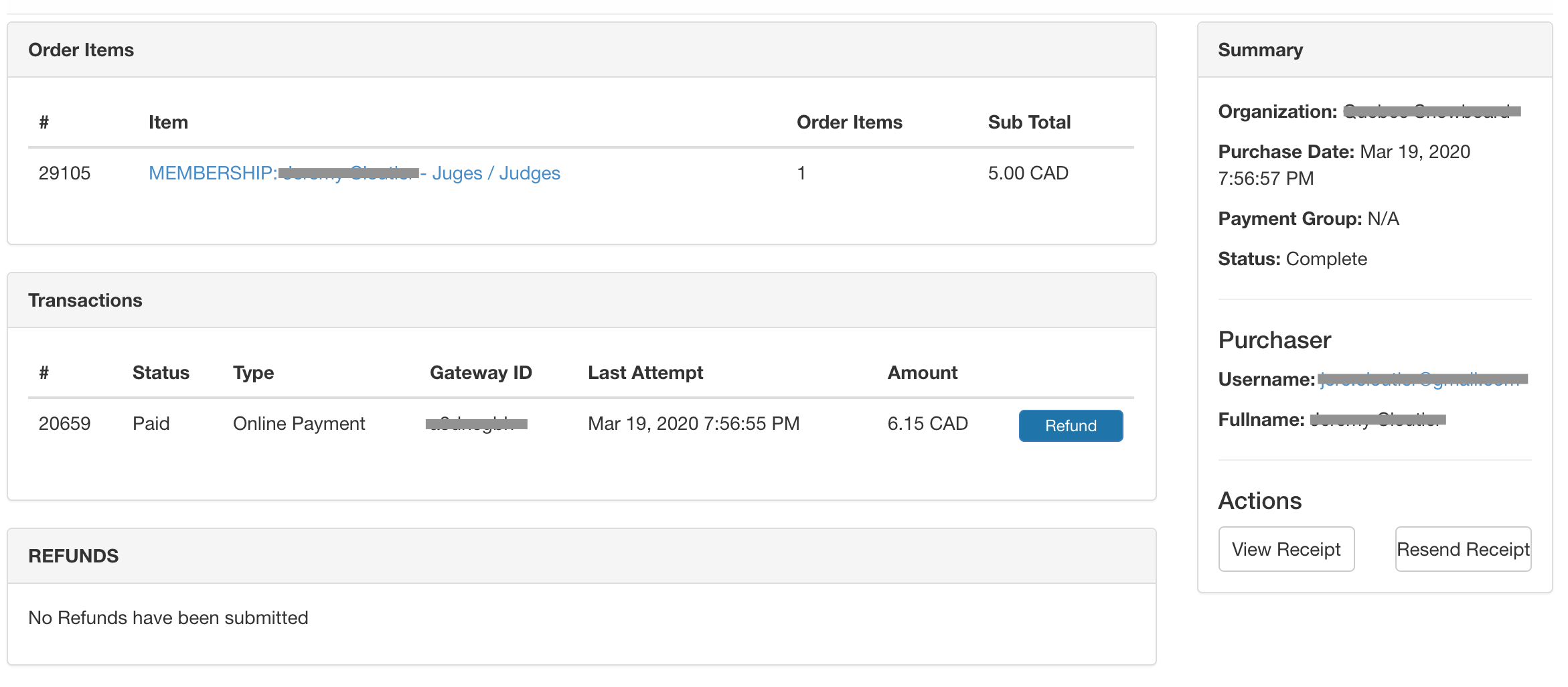 11. Memberships
This section will allow you to directly access PSO memberships, with the ability to search by name, email, or membership number.
Accessing a membership will give you an overview of the personal information for the member, along with the current status of their membership, and their membership number.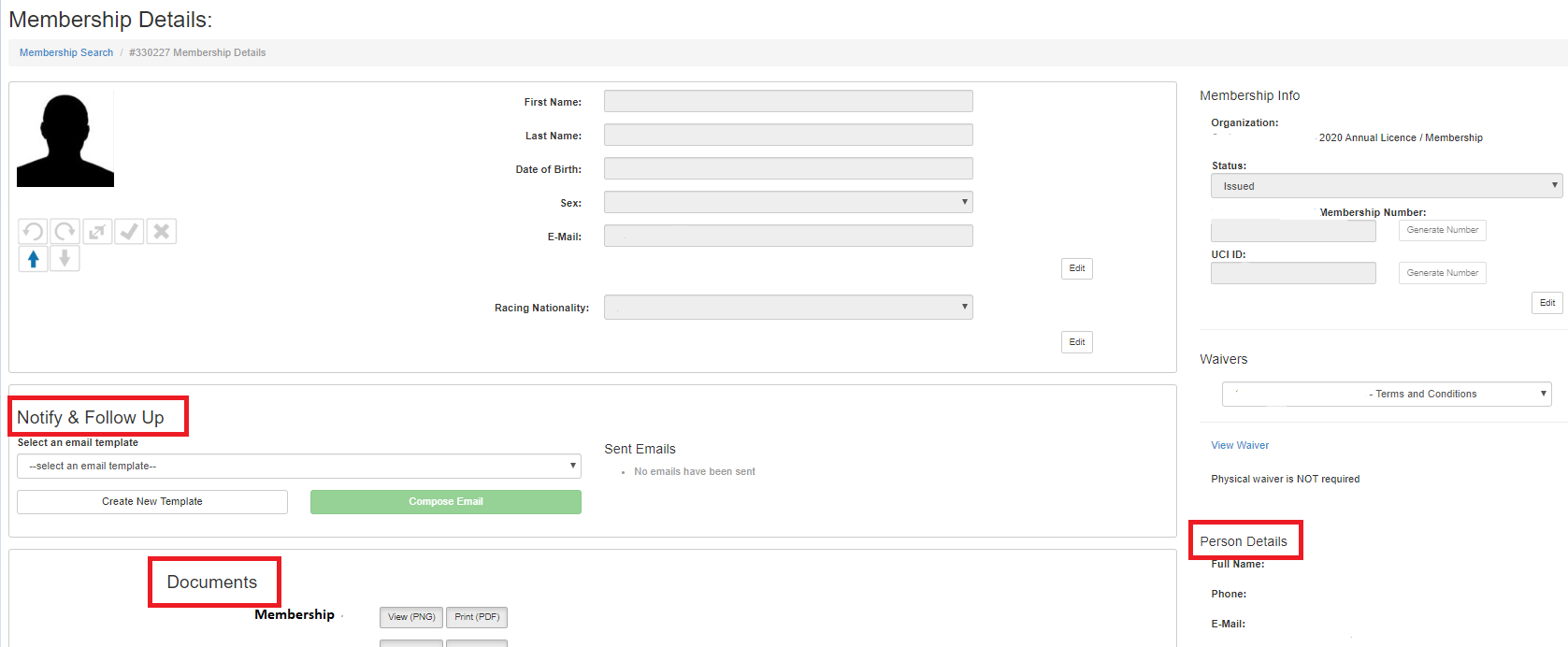 Further down this page will allow you to view which membership designations this individual holds, along with any affiliates.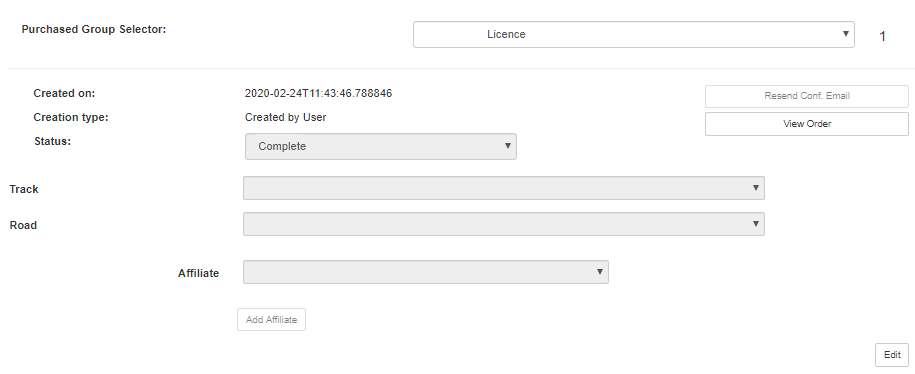 12. Payment groups
This section will allow you to search for, and direct access, club/school/team payment groups that have been set up as affiliates for your PSO in our system.
13. Teams
This section is relevant to you only if your organization is managing events with team registration.
Version en Français
Outils administratifs
Depuis votre tableau de bord vous trouverez 13 onglets ou trouver des informations utiles à vos différents besoins, les voici :

Tout d'abord veuillez vous connecter afin d'accéder aux outils de gestion :
Sélectionnez se connecter

Puis sous outils sélectionnez tableau de bord

Vous êtes maintenant sur votre tableau de bord.
1. Événements - Events
L'onglet événement liste la totalité des événements hébergés sur notre plateforme ainsi que tous les paramétrages et informations les concernant. Les articles ci-dessous sont également valables pour les clubs.
2. Organisations Associatives - Membership Organizations
Cette section contient l'essentiel des informations concernant votre organisation, c'est à dire les adhésions valides ainsi que leurs numéros, l'activité de votre organisation et les rapports contenant les informations collectées auprès de vos membres.

En sélectionnant l'onglet dashboard home depuis votre organisation vous pourrez directement voir le total des adhésions vendues ainsi qu'une liste des inscriptions les plus récentes.
Depuis l'onglet 'Reports' vous avez accès à différents rapports. Vous pouvez mettre à jour et télécharger au format CSV les informations collectées auprès de vos membres lors de l'inscription.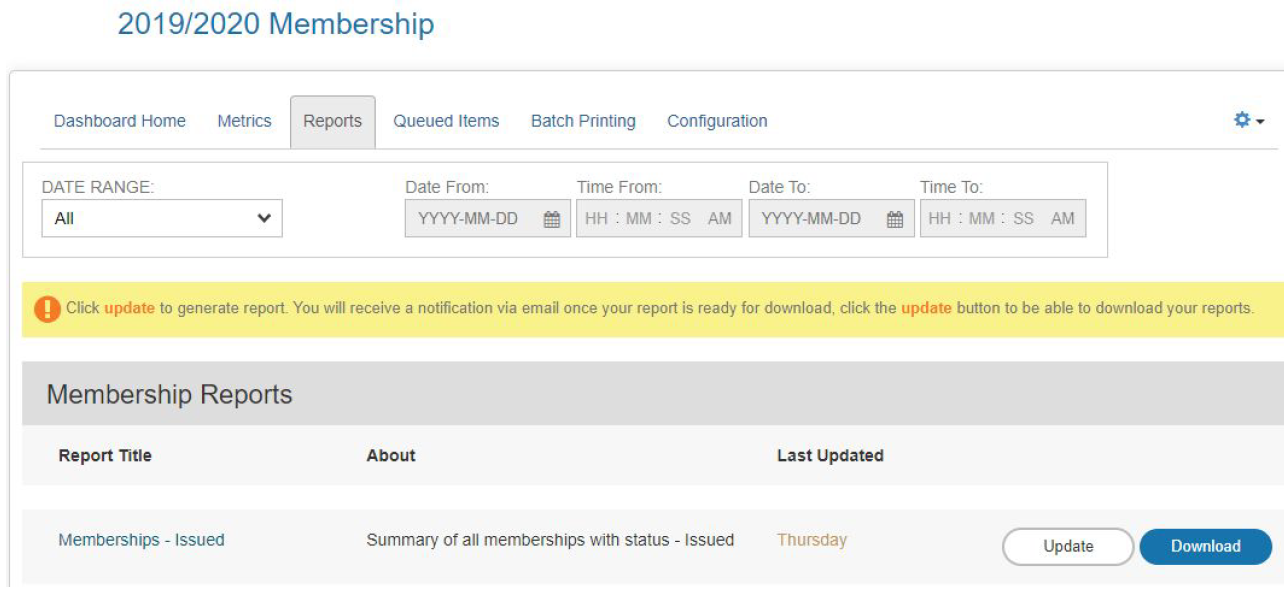 3. Recherche d'adhésions - Membership Lookup
Cet onglet vous permet de chercher une adhésion par nom/prénom ou numéro d'adhésion. Cette page doit être créée par un administateur Interpodia.

4. Permis - Permits
Depuis cet onglet vous trouverez toutes les demandes de permis liés à des événements, clubs ou autres que des organisations ont soumis à votre organisation. Cela peut inclure
Une demande d'approbation d'événement
Une demande d'approbation de club
D'autres demandes de la part de partenaires
5. Finances & Comptabilité - Financials & Accounting
Cet onglet contient les informations financières concernant les fonds collectés par votre organisation.
L'onglet par défaut est cashflow et montre une synthèse de toutes le sommes d'argent collectées et distribuées à votre organisation.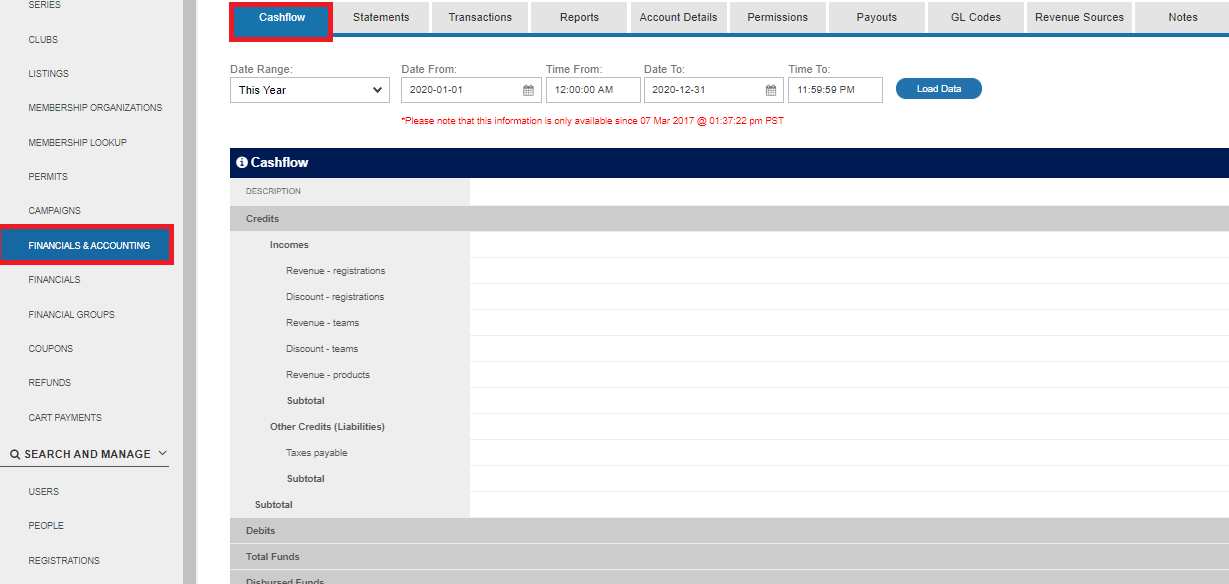 Les autres onglets contiennent de informations plus détaillées, l'onglet report vous permet de télécharger des rapports au format CSV.
5bis. Codes promotionnels - Coupon code
Cet onglet vous permet de générer des codes promos à distribuer aux membres de votre organisation. Vous pouvez choisir leur valeur en pourcentage ou en montant.
6. Paiements hors ligne - Cart payments
Après validation par votre account manager cette section peut vous permettre d'accepter des paiements en dehors de notre plateforme. Cela peut inclure des paiements en espèces, chèques, transfers électroniques etc.
Contactez votre account manager pour savoir si vous êtes éligible à cette option.
7. Utilisateurs - Users Accounts
L'onglet User permet de chercher un compte utilisateur, cela est particulièrement utile pour rechercher un individu inscrit par un admin, coach ou quelqu'un présent sur un compte familiale.
8. - Profils - User Account Profiles

L'onglet people vous permet de rechercher par nom ou adresse email tout individu ayant démarré ou validé une inscription. En sélectionnant un profil vous avez alors directement accès à des informations plus détaillées.
9. Inscriptions - Registrations
L'onglet registrations vous permet de rechercher et directement gérer chaque inscription. En sélectionnant une personne vous accédez aux informations collectées durant l'inscription.
10. Commandes - Orders
L'onglet orders vous permet de chercher et gérer chaque commande. En sélectionnant une commande vous aurez directement accès aux détails de celle-ci : articles achetés, sous-total, nom et email de l'acheteur, date d'achat.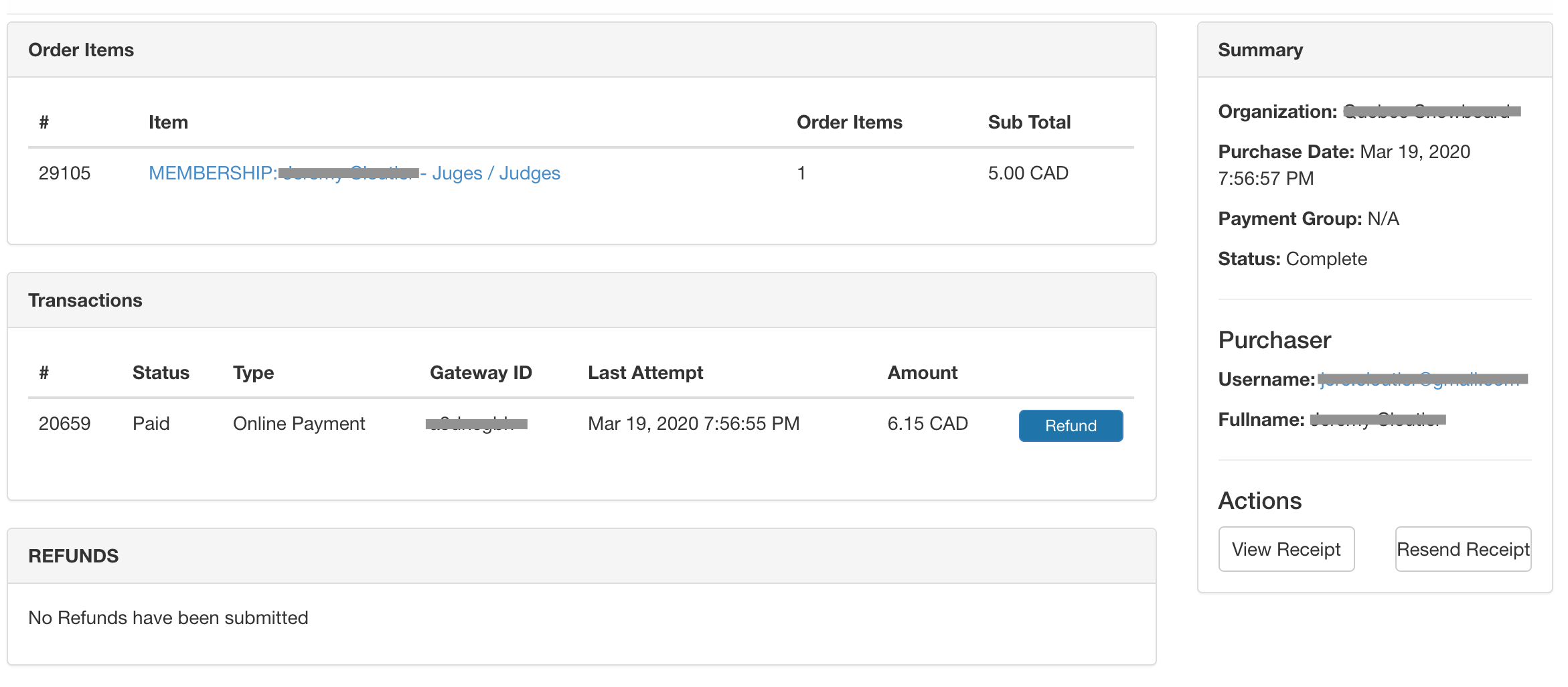 11. Adhésions - Memberships
Cette section vous permet d'accéder à une adhésion, vous pouvez effectuer une recherche par nom, prénom, email ou numéro d'adhésion.
En sélectionnant une adhésion vous avez la possibilité de voir les informations personnels du membre ainsi que le statut actuel de leur adhésion et leur numéro de membre.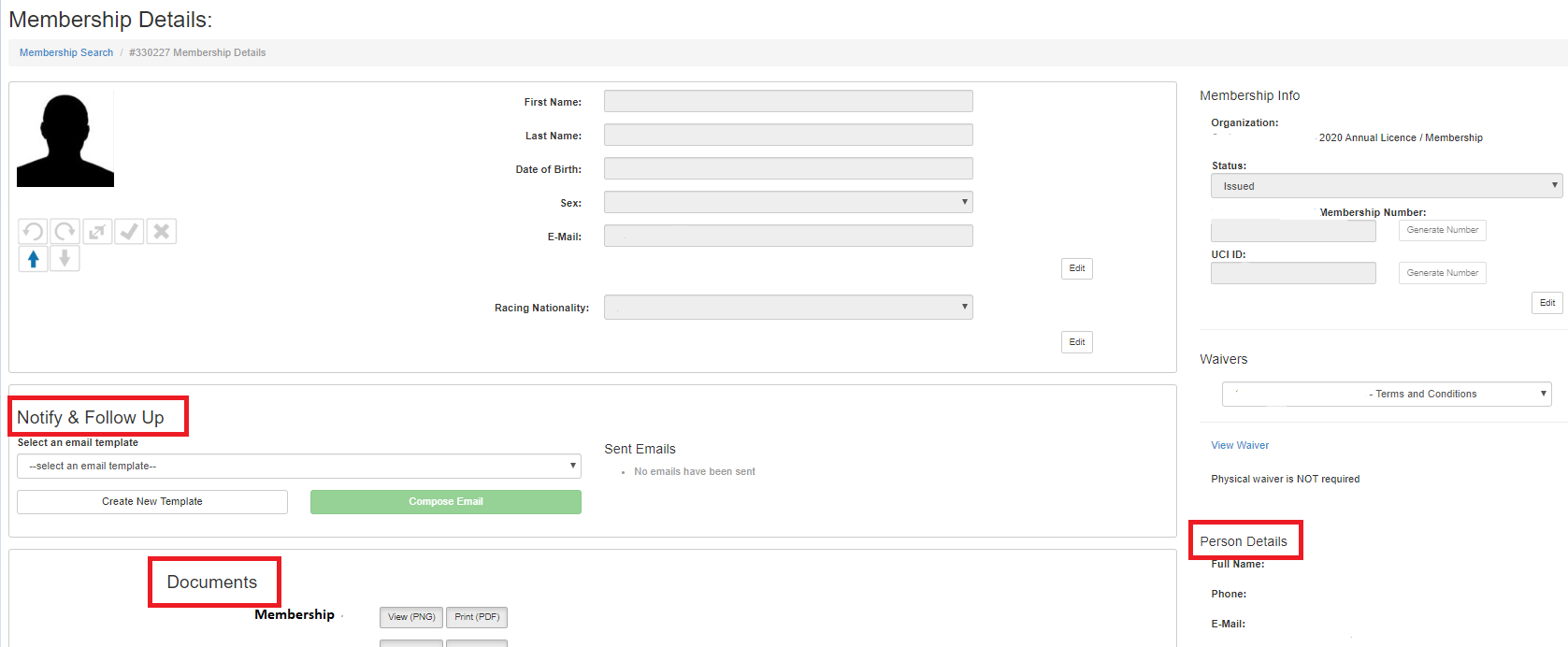 Plus bas sur cette page vous pouvez passer en revue les adhésions et affiliations du membre.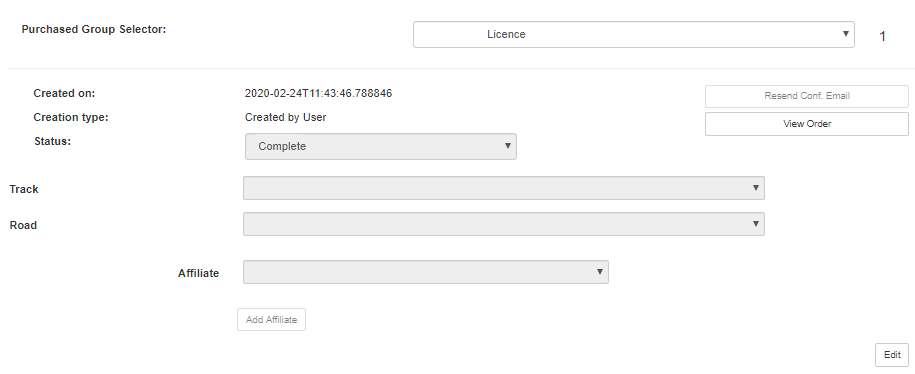 12. Paiements groupés - Payment groups
Cet onglet vous permet de rechercher et accéder au paiement groupés des clubs, écoles ou équipes affiliés à votre organisation. Cette section s'applique peut être pas à votre cas, pour plus d'informations veuillez contacter votre account manager.
13. Équipes - Teams
Cette section s'applique seulement si votre organisation possède des inscriptions par équipes.