How to create regular expression field validation for text field survey questions
Text field survey questions allow for field validation through the use of a regular expression. In short, these expressions limit what text in what format can be entered into a survey question text field.
In Django, these can be set up from 'Survey_App > Survey questions'. Selecting or creating a new survey question, the regular expression is entered in the 'Validation' field:
The example above uses a regular expression that limits the text field to contain a MM/DD/YYYY date.
The following tool can be used to create and validate a regular expression to limit a survey question text field to only contain desired text: https://regex101.com/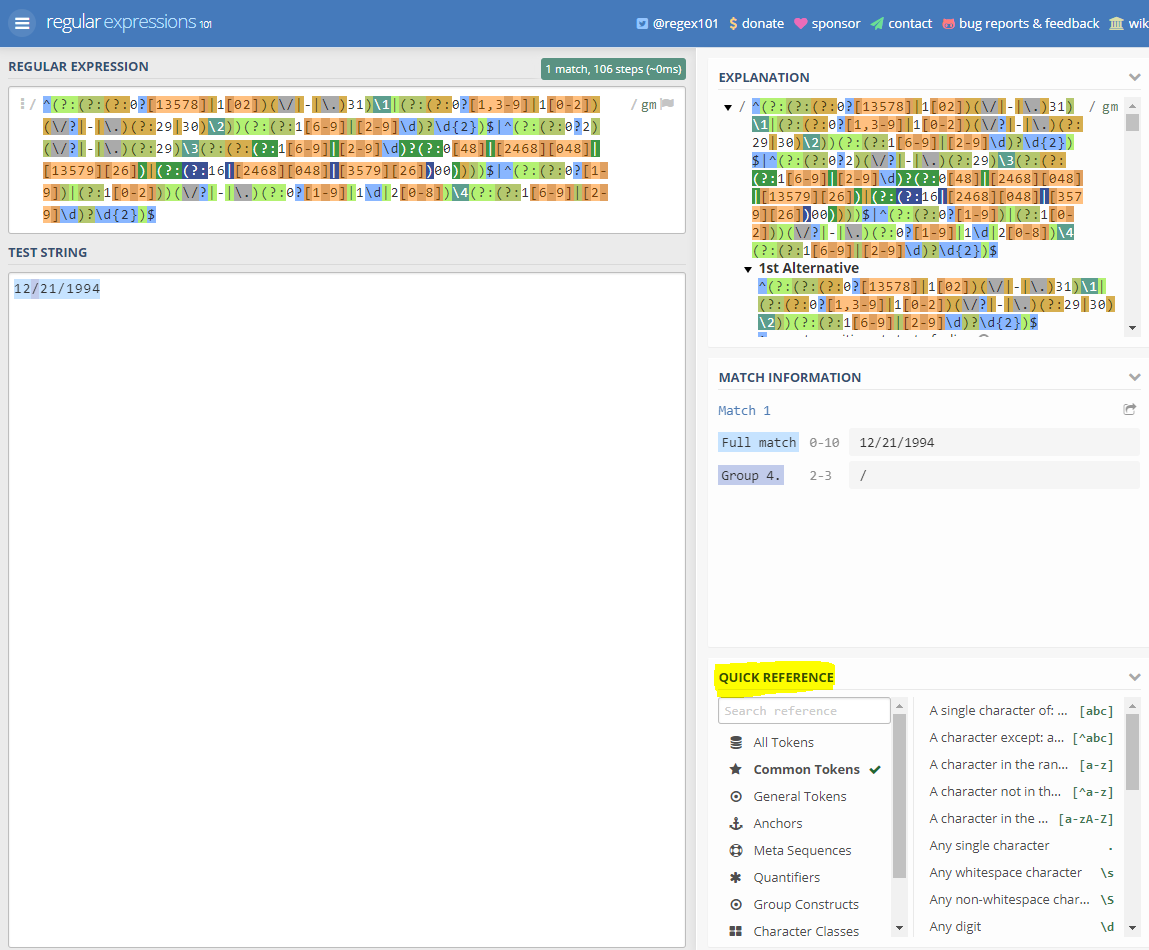 In the above screenshot, we can see that it validates the test string as being a 'Full match' when tested against the MM/DD/YYYY date regular expression. The highlighted 'Quick Reference' area will detail the information needed to write a new regular expression.
When completing a regular expression, please include it in the below list so that it can be re-used in future setups.
Regular Expression List
MM/DD/YYYY - either / . or - separating the numbers
^(?:(?:(?:0?[13578]|1[02])(\/|-|\.)31)\1|(?:(?:0?[1,3-9]|1[0-2])(\/?|-|\.)(?:29|30)\2))(?:(?:1[6-9]|[2-9]\d)?\d{2})$|^(?:(?:0?2)(\/?|-|\.)(?:29)\3(?:(?:(?:1[6-9]|[2-9]\d)?(?:0[48]|[2468][048]|[13579][26])|(?:(?:16|[2468][048]|[3579][26])00))))$|^(?:(?:0?[1-9])|(?:1[0-2]))(\/?|-|\.)(?:0?[1-9]|1\d|2[0-8])\4(?:(?:1[6-9]|[2-9]\d)?\d{2})$
One digit, one dash, and 7 digits
(^\d{1}\-\d{7}$)
Phone number xxx-xxx-xxxx
([0-9]{3}[-][0-9]{3}[-][0-9]{4})
Email example@test.com : any string of characters + @ + any string of characters + . + at least 2 letters
[A-Za-z0-9._%+-]+@[A-Za-z0-9.-]+\.[A-Z|a-z]{2,}
Only numbers, min 2 no limits
[0-9]{2,}