Please note this tutorial is not specific to any State League or Association - the majority of the steps for your League or Association will be the same or similar as shown below.
⚠️In order to access your Coach Profile to view & manage your coaching requirement you must first be registered with your League / Association. Click here for a tutorial on how to register as a coach⚠️
To access your coach profile first log in to CCN - https://ccnbikes.com/#!/login . Be sure to log in with the same CCN account used for registration!
Once logged in to you account click Memberships, Licenses & Certifications Management in the left account navigation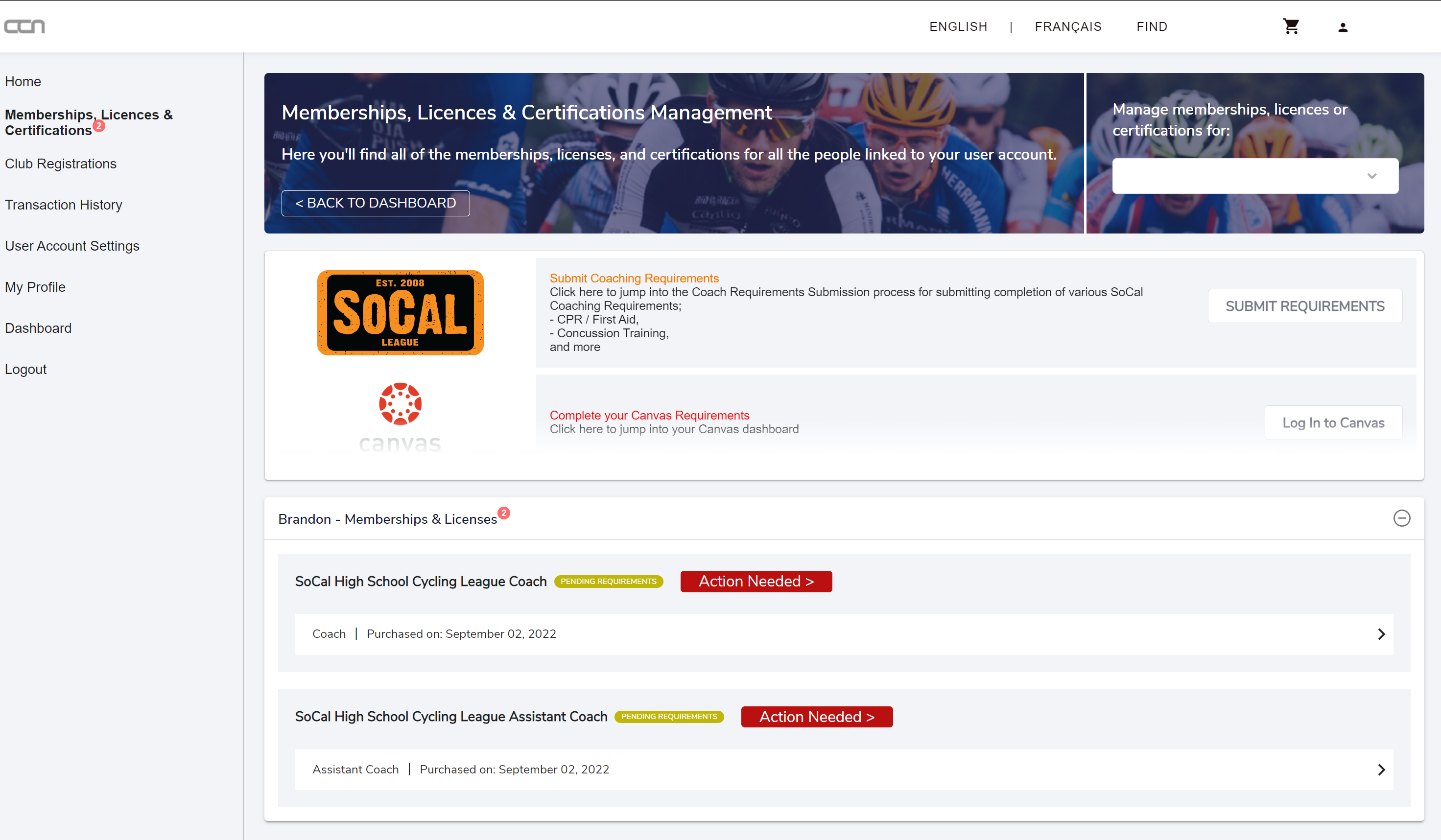 If you've registered multiple people (athletes or coaches) you may need to select the correct person from the drop-down menu in the upper-right in order to view the licenses for a specific coach.
You have a quick-view of missing requirements by clicking the red Action Needed button. An overlay will pop up showing the missing requirements for that license level
Clicking on the How to Complete links in-line with each requirement will display instructions on how you can complete that specific requirement and, if needed, how to submit the requirement to your League / Association.
⚠️Background Check Through Sterling Volunteers⚠️
Only use the link provided in the Sterling Volunteers invite sent by CCN to complete your background check for your League / Association. CCN has special integrations with Sterling Volunteers so that your Background Check requirement can be automatically completed on CCN when it passes through Sterling Volunteers.
If you did not receive or if you have misplaced your invite, email your League / Association representative and they can resend it.

⚠️Requirements completed in Canvas LMS ⚠️
Some Leagues / Associations use Canvas LMS and require coaches to take courses or quizzes as part of the coaching requirements. CCN's integration with Canvas is such that we create you an account with which you must login with to view your League / Association courses in Canvas.
Canvas login details are provided in the How to Complete prompt.
When a course/quiz is completed (and passed) in Canvas your license requirement will be automatically updated.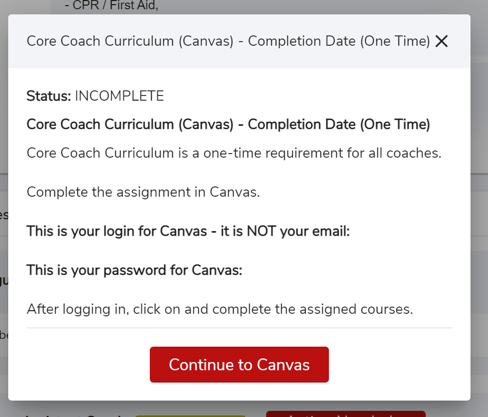 Once all requirements for a Coach License are met your license status will automatically update from Pending Requirement to Issued.
If your League / Association has it configured, you will also receive an additional confirmation email from CCN with a Coach License Card attached as offline proof of your completed Coach License.