To manage teams and view team details and team registration you need to log into your organiser account. Once logged in, click on "Tools" and choose "Dashboard".

Under "Search and Manage to click the "Teams" tab.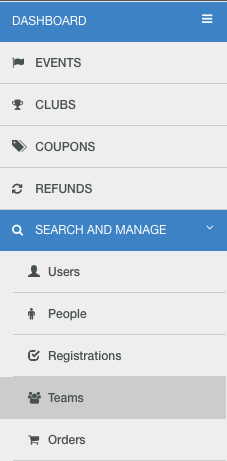 You may enter search criteria to find a specific registration (by Team Name, Captain F Name, Captain L Name, or Captain Email) or you can leave the search field blank to pull up all registrations.
Select the team you wish to view.
On the Team Details page, you are able to modify the team details, the team category, and manage any registrations which are currently linked to that team.
Change Team Details (Team Name, Passphrase, etc.)
To Change the Team Name or any of the team details simply click the Edit button beneath the team information to open the fields. Once the Team Details are in "edit" more you can;
1. Change Team Name
2. Change Team Visibility (NOTE: a private team will be invite-only and NOT be searchable in the Join Team list)
3. Enable a Team Passphrase and specify/edit the passphrase
4. Enable/disable Team Manager Notifications
Once you're done modifying the Team Details be sure to click the Save button to confirm the changes. Reload the page to be sure your changes have taken effect.
Change Team Category
All Teams on the system are on a Team Category. Some events may only have one Team Category, but many events have age-specific, gender-specific (all male, all female, mixed), distance-specific, ability-based, etc., Team Categories. When a team is created the Team Owner/Manager needs to specify what Team Category the team will be in.
To change the Team Category click on the Change link on the right side of the page, in-line with the Category header, above the Team Category. This will open the Category Change overlay.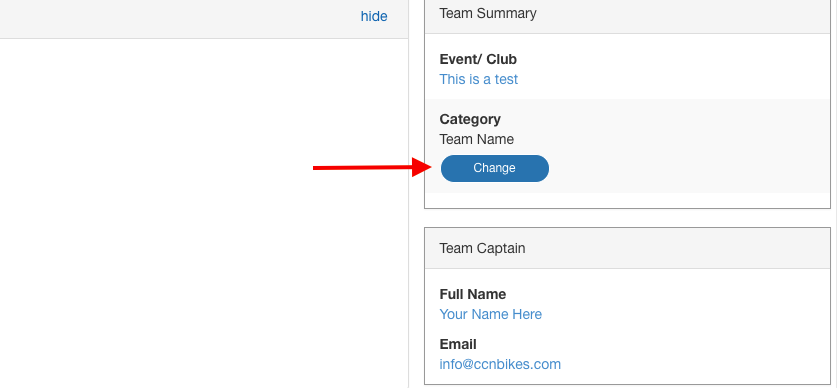 In the Team Category Change window, you can change the team category from the select box.
IMPORTANT REGISTRATION CATEGORY NOTE: If there are existing registrations on the team they will be listed within the Team Category Change overlay. Once you change the team category be sure to review the Registration Category for each registration as you may need to change it so there is no conflict. The system will not automatically change the registration category.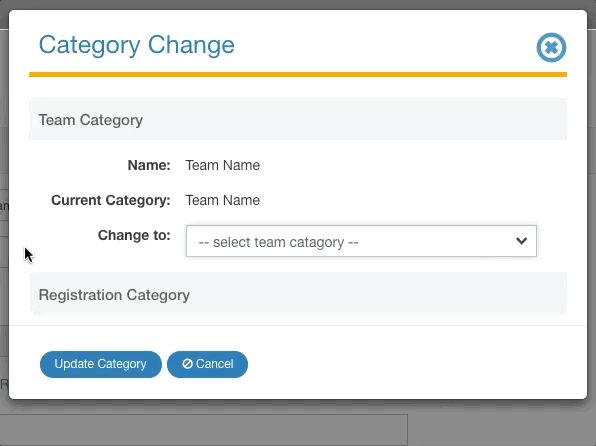 To confirm the new Team Category simply click the blue "Save this Category" button.