From the configuration > content tab, you can update the content that will display on your landing page. As well as the confirmation email and the transaction successful message.
1- Registration page content
To update the content of the registration page for your event/club, you simply need to click the blue "Edit" button.

From there, you can make edits to the information about your event/club. You can also add images, tables and links from the various options here:

Then click "Save" once you're done making your edits. Same method applies for editing the Bottom Registration Page Description.

1-a. Add a link
To add a link to your website, for example, you need to :
Select the text you want to add the link to as demonstrated below
www.mywebsite.com
Click on the "hyperlink" button as seen below:

Add your website link: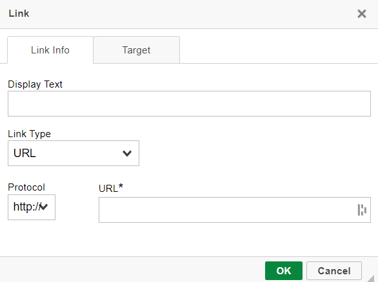 4. If you want the link to open in a new tab, go to the "Target" tab and choose "New Window".
2 - Registration Confirmation Email
To update the registration confirmation email